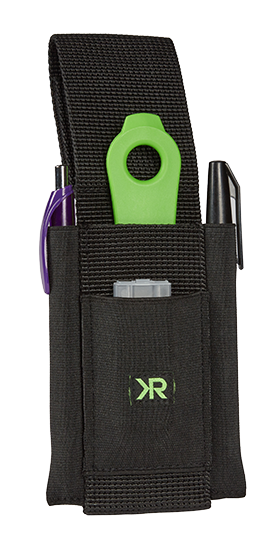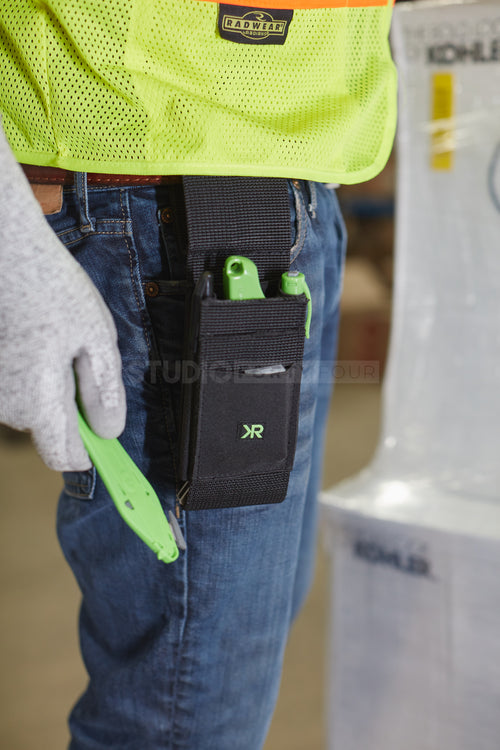 AP50 Safety Pouch
The Riteknife AP50 Safety Knife Holster attaches to your belt for safe storage and convenient access to your safety knives. Designed for heavy-duty industrial use, this multi-tool holder is built to last with durable nylon construction. It also features two small side slots for easy access to pens and replacement blades. The holster helps people easily access safety knives to increase productivity and avoid downtime.
Product Specifications
Frequently Asked Questions about the AS100 and Auto-retractable Safety Knives
Why use an automatic retractable safety knife?

If you have a utility knife, it's important to keep safety in mind. This safety utility knife is a reliable tool because the guard will lock in place automatically over the blade after the cut is finished.

This makes factories and loading docks safer and more productive—you don't need to worry about cutting your body on an unguarded blade.
What is the blade extension?
How does the safety feature work?

Once cutting is complete, the guard lock will automatically activate. It must be squeezed to be released.
Do you need any tools to change the blade?

No, just pull up the release lever
Why is the blade blunted?

To prevent accidental punctures
Can the AS100 be locked?

Yes, slide the side button forward to lock
Is the AS100 ambidextrous?
What is the AS100 made from?
What does the AS100 cut?

The AS100 can cut single, double, and triple wall corrugated cardboard, heavy-duty rubber, stretch-wrap, plastic banding, gasket material, paper and plastic bags and is great for slabbing material off a roll.
What is a safety knife?

A safety knife is a type of knife that has special features such as protective guards, auto-retractable blades and blunt tips These tools are used to prevent lacerations and repetitive motion injuries.
Why are safety knives important?

Safety knives are important because they can help you avoid injury and make your work easier. Safety knives are designed to protect both the user and others around them from injury. If you have a regular knife instead of a safety knife, then there's a chance that someone could get hurt by accident if their hand slips while they're using it.
Why is it important to combine training with your safety knife purchase?

The importance of combining training with your safety knife purchase is that it helps you learn how to use your new tool in a safe and effective manner. When your employees are trained on how to use their new safety equipment, they will be able to perform their jobs safely and confidently.
How do safety knives protect people?

Safety knives protect people by making sure they don't cut themselves. The sharp edge of a regular knife can easily cut someone's skin and cause serious injury, but safety knives are designed to prevent this type of accident.
How do I evaluate which safety knife is most effective for my organization?

The best way to evaluate which safety knives are best for your cutting tasks is by conducting a free safety knife evaluation and discussing your specific situation with a safety cutting professional.
What are common injuries caused by unsafe knives?

The two most common injuries caused by unsafe knives in the workplace and in factories are lacerations and repetitive motion injuries.

Lacerations are the most common injury caused by unsafe knives in the workplace. These occur when a person's body comes into contact with a blade that is being used.

Repetitive motion injuries are also common with poorly engineered knives in the workplace. These occur when someone uses a knife repetitively for long periods of time.. This can lead to carpal tunnel syndrome, tendonitis, or other musculoskeletal issues.
Contact
Our experts are here to help you find the Riteknife that fits your needs and goals.